Sales Coaching and Training are integral to how Jane approaches her work. Coming from a Masters Degree in teaching to Real Estate, Jane sold her first home within the first two weeks and became an Award Winning Realtor in her first year. After 8 years in real estate, Jane transferred to RE/MAX and doubled her income over the next few years, earning over $1 million in commissions. She is the recipient of the VREB MLS President's Award, the MLS Special Gold Medal Award, the RE/MAX Chairman's Club and Hall of Fame Awards. Jane is a Certified Negotiation Expert, a Certified Real Estate Mentor and Sales Expert Trainer.  She is also the recipient of the 2021 Made it to a Million Award Winner for eWomenNetwork.
Speaker Demo Reel
How to grow your real estate business. subscribe to the Briar Hill Group youtube channel for more information, visit www.briarhillgroup.com What if I told you that you have what it takes to be a top seller in just the next few months? Hi, I'm Jane Johnston, award-winning realtor with the Briar Hill Group in Victoria, British Columbia. So, the question is... How do you get to the top of YOUR game? For many Realtors, real estate is an extension of who they are, personally. But it's a business, and should be managed like one. The secret to your success is in learning how to leverage yourself. First of all, start by identifying what you do each time you have a new buyer or seller. Record the steps you take in the process from beginning to end. Just jot them down in a note book. This becomes your procedures checklist. The next step is to look at your checklist and identify what you do and don't like to do. Find someone who is analytical and procedures-based and get them to take over the tasks you don't want to do. Trust me, they will be thrilled to help you: What you don't like, actually excites them! Crazy isn't it? Then you will be doing more of what you love to do, which is selling homes and making money. And they get to do what they like to do! It's a win-win. You will actually feel like you are working less, because you are doing what you love. want more information? visit our website at https://briarhillgroup.com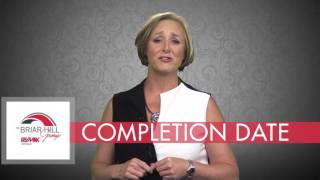 To install this Web App in your iPhone/iPad press
and then Add to Home Screen.